Again and again, there are rumors about slots where you can supposedly make a secure profit. We looked into the question of whether there are Book of Oz tricks, how best to proceed strategically on this slot and what other tips there are.
The Book of Oz slot in the online casino
This slot machine is thematically based on an ancient film adaptation. The work The Wizard of Oz appeared in the cinemas in the 1930s, in German it bears the name Der Zauberer von Oz. A famous Broadway musical that ties in with this is called Wicked and is about the green witch Elphaba. It has long been an integral part of the London musical scene.
The Book of Oz game mechanics
Supposed Book of Oz tricks, which are supposed to represent a kind of system error, have come to our ears completely new. Even if we always go about our work with the necessary scepticism, we always find something like this incredibly exciting.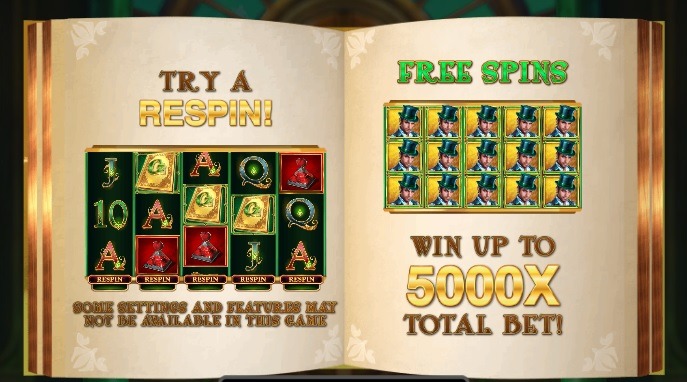 Before we go into specifics about this trick, we need to explain the basic details of the game. To do this, we first look at the symbols, game mechanics, and possible payouts.
In addition to the book symbol – the magic book – there are, for example, the heart perfume and the lion. Three distributed book symbols trigger 10 free spins, and 5 books trigger 25 free spins. At the start of each Free Spins round, a random Free Spins Bonus symbol is awarded.
So this game is very much based on the early famous book machines.
The respins
The highlight of Book of Oz are the respins. These are not free spins rounds, but rather a re-spin for individual reels, similar to the nudge function.
However, the respins are not free. You can always activate them for a certain price. What's particularly crazy is that these prizes are variable and even vary from reel to reel. With 5 reels, you usually have five different amounts displayed to re-spin a single reel.
As a general rule, if a reel has good symbols, then the price of a re-spin is low. Good symbols are of course dynamic and also depend on which symbols appear on the other reels.
If a reel is surrounded by good symbols, but doesn't quite harmonize with them itself, then a respin is rather expensive. Because then the chance of worthwhile winning combinations is quite good. This can even exceed the underlying base bet per game round.
The respin costs are constantly recalculated by the system with each change. We'll have to remember that for later when we analyze the Book of Oz trick currently circulating.
Payout Ratio (RTP)
First, let's take a quick look at Return to Player. The average RTP at Book of Oz is 96.31%. Book of Oz joins the ranks of online slots with decent payouts. That percentage is worlds better than anything you can get at the arcade or the pub.
The theoretical average payout for the respins of the individual reels is even 96.50%. On average, it's worth activating the new spins a little more than starting a completely new game round.
By the way, the maximum win of the game is 5000 times the basic bet. So if you play with a basic stake of one euro, you can win up to 5000 euros.
More versions
Due to its immense success, the developers at Triple Edge Studios have designed a series of games that are more or less directly based on Book of Oz Respins:
Book of Oz Lock'n Spin Hyperspins: Here you have to click on the reels that you don't want to re-spin in order to complete them.

Sisters of Oz WowPot and Sisters of Oz Jackpots: The jackpot version of these attractive Sisters of Oz JackpotPower based on the Book of Oz is likely to become a classic. You can hit a pretty big progressive jackpot.
This is how the Book of Oz trick works
So now we come to the big tricks that supposedly make it easy to win safe money at Book of Oz. We remember that you always have to pay a variable amount for the respins of the individual reels. Depending on how the system calculates the odds of winning, it can start with as little as one cent.
A better tip is actually to always set a budget and stick to it. You should strategically align your bets with this budget.
Then it can be worthwhile to take a bonus with you. In some online casinos, you can always take advantage of an offer. The usual procedure, however, is to register with a new casino and take the welcome bonus with you.
Since there are some online casinos that offer a bonus for new players, you can graze quite a lot of free credit this way.
We have summarized the best offers in reputable online casinos with EU license, where you can play the slot Book of Oz:


Conclusion
In summary, we can say that the alleged Book of Oz tricks are based on a misunderstanding. The Respin feature, where you can re-spin a single reel for a variable amount of money, is unusual. You can play around with it quite a bit.
However, one does not have a secure win or an improved chance of winning in favor of the player. You cannot spin all 5 reels at an incorrectly calculated discounted amount. As soon as you activate only one reel, the bet amount for the four remaining reels changes.
There is no system error here, and no secret trick either. The developers didn't put any wrong code into the game.
However, there is a fair chance of winning, which can be improved somewhat by using bonus credit.