Being only a few weeks away from its debut in the legal iGaming commercial activity and mobile sportsbook activity, Ontario is set to go. However, in Ontario unlike in the USA, is prohibited to advertise and flood the market with promotional materials targeting new potential players with bonuses, free spins, and sign-up goodies. Canada's regulations currently do not allow such advertising.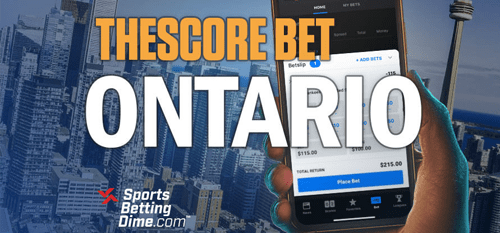 This advertisement from Sportsbook Thescore in Ontario is without any promotional incentives, as requested in Ontario. The land-based Casinos are worried about the emergence of iGaming and mobile sportsbooks as this will impact brick-and-mortar casino businesses.
The Legislation was passed last July 2022, authorizing the online casinos to feature slots, casino table games such as Blackjack and roulette, and online sportsbook. This motion was the next step taken by the Canadian Parliament after it legalized single-game sports gambling.
A few weeks after the Ontario regulator took action to bring offshore iGaming Casinos' activity into a regulated and legal market, the AGCO, the Alcohol and Gaming Commission of Ontario informed that iGaming operators would not be allowed to promote any marketing material to attract new potential players to gamble.
Nevertheless, Ontario locals wishing to play online will still be offered and benefit from the same signup deposit bonus matches including no deposit risk-free bets. AGCO made it clear that iGaming operators such as TheScore, can still promote bonus offers on their iGaming platform or through direct Marketing.
The largest Province of Ontario is the first territory in Canada that will allow players to gamble lawfully once the first Casino iGaming websites go live on the 4th of April 2022.
Land-based Great Canadian Gaming Ltd presented its concerns due to Sportsbook Casinos in Ontario
There are 28 land-based casinos in Ontario and all of them have expressed their concerns as the legalization of mobile sportsbooks and iGaming Casinos will result in an abrupt decline in land-based gaming activity.
GCG currently runs 14 Casinos with Sportsbook in Ontario and is  Canada's largest land-based operator. GCG believes iGaming will migrate most of the land-based players online.
Unifor which is the largest union in Canada and GCG jointly have an issue with Ontario imposing only a 20% tax on iGaming Gross Gaming Revenue (GGR) while land-based casinos are taxed hefty rate of 55 percent.
They also commissioned a study to show the fiscal impacts of legal iGaming and online sportsbooks in Ontario. GCG warned the Ontario government to expect around CA$500 million (US$384 million) less in tax money each year from the brick-and-mortar gaming revenue. Another point that GCG noted was that the online gaming industry could make one in four jobs redundant in the retail gaming sector.