With the slot, the Aztecs' culture transports us to the heart of Mexico and is still revered today. Explore this slot's journey and find one of the temples in Azticons Chaos Clusters slot.
This time around, Quickspin appears to have used a copywriter from a travel agency, as reading about the "land of Tenoch" certainly makes you want to go there. If you have any doubts, Tenoch is the ruler of the Aztecs, and Azticons has incorporated a brand-new and ground-breaking Chaos Clusters™ mechanism. As a result, wins can occur if five or more matching symbols are at least partially connected in a 7×7 grid, giving winning clusters greater possibilities.
Game Features
The maximum payout is 25,000 times your initial wager in Azticons Chaos Cluster slot. Obviously, you need to play hard for that. The game's RTP is 96.26 percent, and it's a high volatility game . Even though there isn't a specific bonus game, the reels start with free spins and increase your earnings with multipliers.
The grid for the game is extremely unique. First, there are seven reels and five to nine rows are present. This indicates that there are diverse and variable winning opportunities. The Turning Twins are another special feature. When they line up together, they can change all other symbols into the same one, giving you a massive prize.
If two identical symbols (i.e., "twins") land horizontally on the grid, the Turning Twins feature could occasionally prolong your winning streak while it is falling. This has the potential to change each of the intervening symbols into a pair of complementary ones, granting at least one additional victory in the falling sequence.
The Free Spins at Azticons Chaos Clusters
The Sacred Free Spins feature is another name for Azticons Chaos Clusters' free spins round. Landing four or more scatters in the form of a pyramid on the playing field will trigger this sacred bonus round.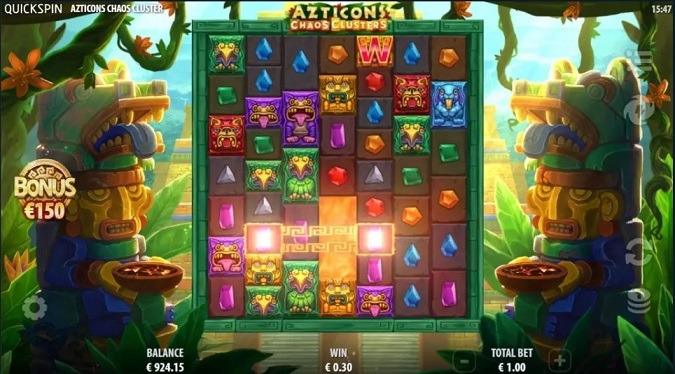 Seven free spins are awarded with four scatter symbols, and three more free spins are added for each additional scatter. A progressive win multiplier is activated throughout the free spins round of Azticons Chaos Clusters slot machine. With each successful action of the Tumbling Reels feature, this starts at x1 and is increased by +1.
The free spins round functions similarly to the base game, too. During the free spins phase, you will receive an additional 3 free spins when you land 4 scatters on the playing area. You will receive an additional free spin for each additional scatter that appears on the playing field.
The free spins round can also be purchased for 150x your bet in Azticons Chaos. Your next spin will now have a minimum of 4 scatters and a higher RTP of 96.49 percent as a result. For gamers that have trouble waiting, this can be a compelling choice.
• pros
Drums & Chaos Clusters™
Gemini's transformation can extend the rollover victory
Unlimited progressive win multipliers during free spins
• cons
Beware of the Regulated RTP Ranges
Play the slots in the best online casinos with lots of different bonuses.