Beware of the big bad wolf! He is up to mischief on a Pragmatic Play farm and has started hunting the poultry. Help the hens get to safety and the Chicken Chase slot will reward you with a Spin & Hold feature as well as Pick'n Click instant wins.
With Chicken Chase, Pragmatic Play has released a completely different slot than what we are used to. Instead of action, big wins and high-risk play, a low-volatile slot with meager win potential and unspectacular features awaits us. All in all, everything harmonizes perfectly and the look of the slots is great, but this game will only appeal to occasional players or beginners who want to get a taste of the world of online slots without taking too much risk.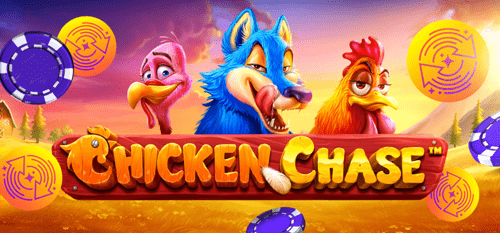 Chicken Chase slots review
Game developer Pragmatic Play takes us to an idyllic farm with their Chicken Chase slot machine. Sunset fields, red barns, windmills, and scarecrows create the illusion of a warm spring day drawing to a close. But the closer night gets, the more frightened the hens of the farm become because the blue wolf is around and wants to eat a delicious midnight snack. It's certainly not the pepper, broccoli, aubergine, or strawberry that are the low winning symbols, but it craves a fat hen, rooster, or turkey.
So at first glance, we have a top slot with great graphics, but looks can be deceiving. As soon as we take a look at the mathematical values, it becomes clear that there can be no question of action and adventure. The low volatility slot has a maximum win of just 210x and the two functions, a Spin&Hold feature and a Pick'n Click feature are not exactly what we had hoped for. Anyway, let's find out together what the game has to offer and how our Chicken Chase slot machine rating goes.
Chicken Chase Bonus Features
Chicken Chase comes with an unusual and rarely found Spin & Hold feature, as well as a Pick'n Click Chicken Chase Bonus feature.
Wilds
The blue wolf is not only the wild symbol of the game but also the most valuable with a payout of up to 200x for five of a kind. Apart from that, the Wild substitutes for all other symbols except the Scatter.
Scatters
The golden egg is the scatter symbol of this slot and triggers the Pick'n Click feature if at least three of them land.
Bonus Features
The Spin & Hold feature works a little differently than a classic respin feature. Whenever you don't land a 5-of-a-kind combo on a spin, you get a respin. As you can imagine, this is very often the case, because combinations consisting of three or four identical symbols usually land. But that's not all. Before the respin, players can choose from two options. Either you decide for yourself which reels you want to hold for the respin, i.e. which ones should not spin again, or you leave this decision to chance and the game chooses randomly for you.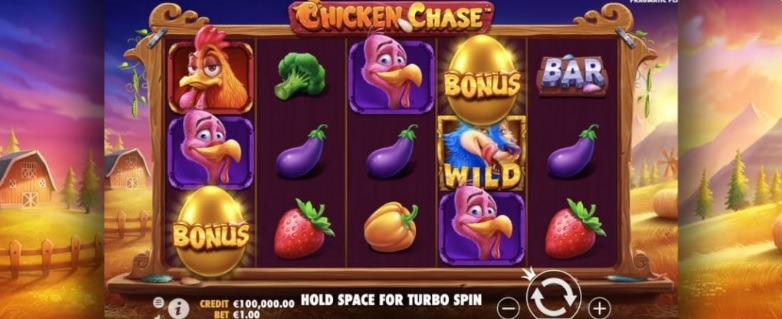 The respin is free and you can decide if you want to spin all reels again or fewer. If three or more golden eggs scatter, no Chicken Chase free spins are triggered in this case, but a pick'n click bonus feature. Four chickens will appear in their coop on screen, from which you choose a hen, who will then lay an egg that includes an instant win. Depending on the number of triggering scatters, the instant wins look like this:
3 Scatters: Instant wins of 2x, 4x, 12x or 50x
4 Scatter: Instant wins of 4x, 8x, 24x or 100x
5 Scatter: Instant wins of 6x, 12x, 36x or 150x
Chicken chase jackpot
It doesn't matter if the wolf catches a fowl or not, you can't win a chicken chase jackpot here. The maximum potential of 210x is also anything but lavish, but it fits in with the other values ​​in the game.
Payout percentage (RTP) and volatility
As far as the Chicken Chase RTP is concerned, you should inform yourself before playing, because the Chicken Chase RTP can have four different values, the best of which is 96.48%. The Chicken Chase volatility is surprisingly low for a Pragmatic Play slot, earning a mere 2/5 from the game developer.
Chicken Chase on mobile devices
It doesn't matter whether you're on the go or prefer to sit at home on the couch, you can easily enjoy Chicken Chase online slots on all mobile devices. In some great online casinos, you can play the slots from Pragmatic Play with great bonuses. We also recommend some great online casinos here.