Karen Maneater will eat any male she doesn't like, so be careful!
Fantastic effect and a one-of-a-kind theme
Have Infectious xWays symbols infect other symbols to generate high multipliers
There are two different types of free spins features.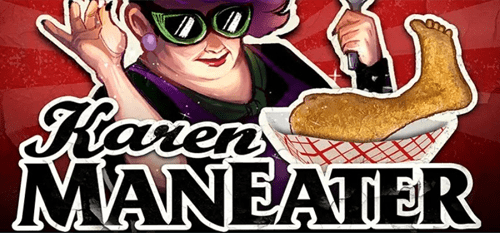 A woman being referred to as a "maneater" is not a compliment. This refers to powerful women who walk all over guys and are always whining about something.
Their personality (and frequently their haircut) can be described as fiery. A "maneater" is frequently referred to as "Karen" because many of these women appear to be named "Karen" or because people believe that this name suits such ladies well. On the internet, there are numerous memes concerning so-called "Karens."
Now that it is clear why this slot from Nolimit City is called Karen Maneater, let's take a look at what's going on in terms of content. Will this be as strange as the theme?
Storyline and theme of Karen Maneater Slot
Although you might not say it, Karen Maneater is the successor to another slot. We're talking about xWays Hoarder xSplit, which explains Karen Maneater's quirky design.
After all, a post-apocalyptic setting isn't what you'd expect from a slot machine named Karen Maneater. The playing field is projected onto a wooden structure in the foreground. At the bottom of the rack, various sorts of sausages hang. Could the flesh of the men she killed have been twisted into these sausages?
If you look closely at the background of this slot machine, you'll notice various North American landmarks like the Golden Gate Bridge. A recognizable "KFC bucket" can be found in the top left corner of the screen, which generally serves chicken wings.
The KFC logo is no longer visible on the front of the bucket, but a Karen Maneater can be seen. A design like that of Karen Maneater can undoubtedly be appreciated.
RTP, Bet, and Variance – Karen Maneater
Every spin begins with a 2-3-3-3-3-3 sequence on the playing surface. The roles, on the other hand, have the potential to expand. Karen Maneater's maximum playing field can have 2-3-4-5-6-7 symbols on it.
According to Nolimit City, a "crazy" high variance is used, with a 96.00 percent average payout rate. If you play Karen Maneater with the optional xBet switch mode instead of the standard mode, the RTP can be higher. Not only does the RTP increase to 96.34 percent, but every spin also ensures that a scatter will appear on the reels. Your wager will be increased by 30% as a counterproposition. This is a rare variation.
It is possible to play Karen Maneater with a minimum stake of 10 cents and a maximum bet amount of 70 euros per spin. The maximum prize is 11,757 times your initial bet.
Features of Karen Maneater Slot
The bonus buy feature in Karen Maneater is another option to boost the RTP. As a result your RTP could rise to 96.61 percent. You then pay to be able to play particular features right away, rather than having to wait until the standard game unlocks them.
The two free spins features, in combination with Infectious wilds, are the features we're talking about here. But first, let's go over how important scatters, xWays symbols, and Infectious xWays symbols are in this game.
Scatters
Scatters are crucial in Karen Maneater because they can cause roles to expand. They appear on the the middle 4 reels. Each scatter symbol that lands expands the reel by one position to the right of the scatter symbol.
When you spin 1 or 2 scatter symbols at a time, they transform into xWays symbols.
If you spin three or four scatters at the same time, one of the two free spins features will be activated. We'll get to that later.
xWays symbols
For those unfamiliar with xWays symbols, they only appear on the middle four reels in Karen Maneater. During a spin, all xWays symbols that land convert into ordinary pay symbols with the numbers 2, 3, or 4. This number represents the number of units of the pay symbol.
Karen Maneater Infectious xWays symbols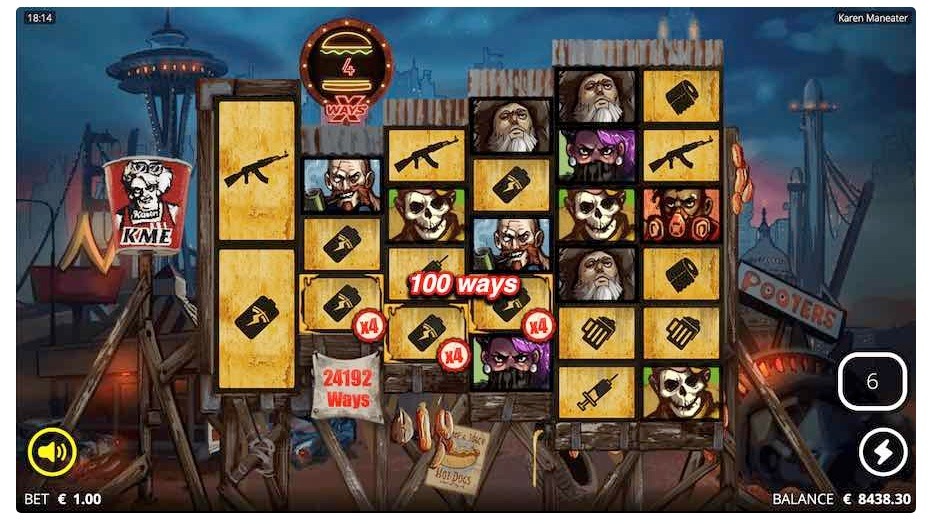 There are additionally Infectious xWays symbols that can only appear on the first reel. These symbols have the same properties as xWays symbols, except they can additionally display a 5, 6, or 7 as a number.
The Infectious xWays symbol then infects all units of the symbol on the playing field in which the Infectious xWays symbol has been modified. As a result, all of those symbols have a number from 2 to 7 associated with them.
Infectious wilds of Karen Maneater
Wilds that appear on the last reel have the ability to push themselves down to the bottom position. The wild multiplier increases by one for every symbol they push away.
Every symbol on the last reel gets a wild multiplier added to it. Naturally, an Infectious xWays symbol may infect a symbol on the last reel. The multipliers are then added up to generate the new multiplier for that symbol.
The Bonus Buy feature
The RTP can be significantly increased by using the Bonus Buy option, as previously described. This slot provides three options:
The Value Bonus Meal free spins feature pays out 100 times your bet. The RTP goes up to 40 percent.
The Deluxe Bonus Meal free spins feature pays 500 times your bet. The RTP goes up to 96.47 percent.
Either the Value Bonus Meal feature in conjunction with an Infectious wild or the Deluxe Bonus Meal feature in conjunction with an Infectious wild pays 542 times your wager. The RTP goes up to 96.61 percent in both circumstances.
Value bonus meal
To begin, there is the Value Bonus Meal free spins feature. This can be triggered by spinning three scatters in the base game. After that, you'll get 7 free spins and 3 sticky xWays symbols. Sticky refers to the fact that they stay in place during the whole feature.
Deluxe bonus meal
In addition, you also have the Deluxe Bonus Meal free spins feature. You can activate this by spinning 4 scatters in the base game. You will then receive 10 free spins and 4 sticky xWays symbols.
Where do those xWays symbols come from? That's a question we asked ourselves. The answer is simple: the scatters that activate the free spins feature turn into sticky xWays symbols in Karen Maneater.
During the free spins feature, whenever an xWays symbol shows a number for the first time, that number is 2. Every winning spin, though, increases that number by one. It can reach a maximum of 42.
The Value Bonus Meal free spins feature will be upgraded to the Deluxe Bonus Meal free spins feature if you manage to spin a scatter during the feature. The scatter symbol then transforms into a 4th sticky xWays symbol, awarding you three additional free spins. It's also worth noting that the playing field is always at its largest size for both variants of the free spins features.
Final verdict
We have to admit that after seeing and playing Karen Maneater, we are stunned. We assumed Nolimit City would be primarily humorous, but in terms of content, Karen Maneater slot has a lot more to offer.
The xBet option ensures that a scatter will appear on the second reel.
Scatters will add an additional row to the reels on the right xWays, Infectious Wilds and Infectious xWays
Be wary of RTP ranges that are regulated.