Misery Mining is a Nolimit City slot. You follow a gruff miner in his search for wealth, just like you did in Fire in the Hole. Look closely, and you will notice that he even resembles the worker from the Fire in the Hole slot machine. Misery Mining is a slot machine with a 3×3 playing grid and 27 pay lines.
You can win up to 70,000 times your bet if you use the xBomb multiplier feature, but more on that later. The minimum wager is €0.20, and the maximum bet per round is €100.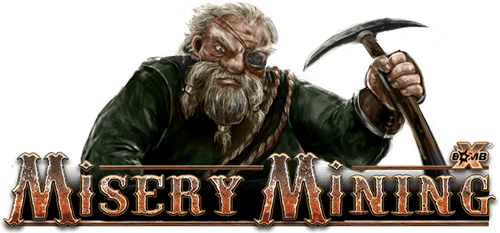 At 96.09 percent, the payout rate is slightly higher than normal. We're excited to see what this new Nolimit City slot machine has in store; will Misery Mining be included? Read further!
How does Misery Mining slot work?
On a playing grid like this, it almost goes without saying that you must land three symbols in a row to win. The combination must, of course, be done horizontally, vertically, or diagonally. Oh, and the symbols, of course, must be same.
You can start playing as soon as the slot machine is loaded. The bet is set to €1 by default. Of course, you can alter the wager amount at any time. In this slot, you can do this by going to the options on the left side of the playing area. You'll also discover the game's description and additional slot machine settings here.
Despite the small playing grid, Misery Mining contains 14 different symbols. There are ten symbols having a paying feature, with the furious miner being the most valuable. The final four symbols have a special effect.
Bonus Features at Misery Mining
Misery Mining's extra features are something we're looking forward to seeing. Nolimit City slots are well-known for having a plethora of appealing features. The xBomb Multiplier is one of five additional features available. You can find out which ones there are, what they do, and how to activate them in the sections below.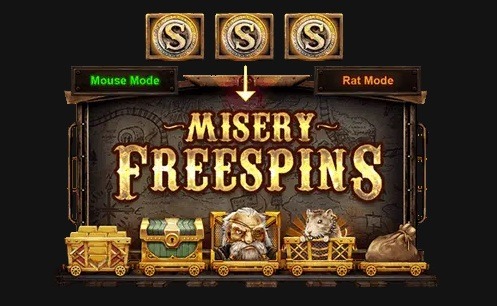 Collapsing Mine of Misery Mining Slot
In the midst of a 7×7 playing field is a conventional 3×3 playing field. At first, the other boxes, on the other hand, are grayed out and unavailable. When these boxes explode near to a bar that shields the playing field, the xBomb symbols ensure that these boxes are unlocked. This raises the bar and expands your playing field.
A new collapse is triggered in these ways:
– A Winning combination.
– An exploding xBomb when there is no gain.
– In the absence of either of these two conditions, 1 or 2 Scatters in your play grid will transform into xBombs, resulting in an xBomb explosion.
Following each winning combination, the symbols associated with that combination vanish from your playing field, and other symbols invade to take their place. This process is repeated until none of the three scenarios listed above occurs.
Wild Multiplier xBomb
The xBomb Wild substitutes for all paying symbols in your playing field, just like a standard Wild. All symbols adjacent to an exploding xBomb are removed, with the exception of Scatters and Super Scatters. The multiplier grows by one each time a new collapse occurs.
xBomb Minin
When you don't get a winning combination or there are no xBomb Wilds in your field but 1 or 2 Scatters, they transform into regular xBombs and detonate. This causes new collapses, and the multiplier grows by one for each successive collapse.
Free Spins at Misery Mining.
Misery Mining's most notable feature is the Misery Free Spins. If 3 Scatters or 1 or 2 Super Scatters appear in the same round, you'll be taken to a 3×3, 4×4, or 5×5 playing grid. You will be offered the option of using Mouse or Rat mode before the function begins.
Depending on how many Scatters triggered the feature, you'll be rewarded with 8 to 12 Free Spins. When there are fewer than two Super Scatters, you will receive an additional two Free Spins.
You'll play a game with three Respins in Rat Mode. The respin counter resets every time a special coin card or Super Scatter is activated.
You can see which modifiers will land during the spins in the top row. When a Scatter or a Super Scatter lands on the reel below the modifier, the modifier is activated. The modifier will be triggered many times if multiple Scatters appear on the reel.
Modifiers and their functions
Coin Wagon: Lands with a value ranging from one to one hundred times the stake. When this modifier is activated, the value is added to the closest collector, and the winning amount is updated. With this modifier, the Respin counter is reset to 3.
The Multiplier of Misery Mining: Comes with a value ranging from x2 to x5. If you get more than one, their overall value is summed up.
Bombs: Bombs detonate on your field, allowing up to 8 nearby game spaces to be unlocked. Everything on your field will explode except the Side and Bottom collectors if you activate a bomb in the middle of the field.
Money Bag: The Money Bag collects the value of both the Side collector and Scatter of that particular row hold.
Treasure Chest of Misery Mining slot: Within three reels, it collects all Scatters and open Side Collector values, then sums and updates the overall win amount.
Dwarf: Sticks to lowest activating Scatter that can't trigger other modifiers. The Dwarf will also earn multipliers if he is stuck on a Super Scatter. For the rest of the feature, the Dwarf collects all values in the area and open Side Collectors within three reels.
Rat: Only appears on reels 1 and 7. It will walk out of its reel, adding value to the reel, then add it to an unopened collector, which will be opened later.
Super scatter: appears on the second and sixth modifier reels. When this is triggered, it will relocate randomly to a different location in the field. If you reset the respins to two in Mouse Mode you will get two more Free Spins.
Side Collector: When triggered, the value is added to the total win on each spin.
Bottom Collector of Misery Mining: If you activate the bottom collectors, they will gather the value on their reel and contribute to the overall win on each spin.
Bonus Buy
You can choose to manually activate the Free Spins if you want to start playing them right away. This will cost you between 66 and 1,000 times your bet, depending on your what you want.
The 3 Scatters are awarded for 66 times your stake, 3 Scatters and 1 Super Scatter are awarded for 250 times your stake, and 3 Scatters and 2 Super Scatter are awarded for 1,000 times your stake. If you still want to be surprised, you can be startled for 439 times your wager with the Lucky Draw.
What are our thoughts on the Misery Mining video slot?
Yet another classic Nolimit City slot. Misery Mining slot machine is meticulously designed in terms of graphics. The symbols, as well as the animations and the soundtrack, are perfectly suited to the theme.
There is nothing to criticize about the betting range, and the maximum profit of 70,000 times the stake also makes Misery Mining highly appealing.
• pros
Cool graphics
Wide range of wagering possibilities
A fun game to play.
• cons
RTP isn't the best.