Play'n GO's Fat Frankies slot machine is a scrumptious one. Because tacos and hamburgers are flying all around you in this slot machine, just like in Yum Yum Powerways and 5 Reel Drive, we find ourselves suddenly yearning a fatty snack. Fat Frankies has a 5 by 3 playing field with 243 winning combinations.
The Burger Bonanza is just one of the lucrative aspects that Fat Frankies offers. These can aid in securing the maximum payout of 6,000 times your initial bet. The minimum stake every game round is €0.10, while the highest bet is €100.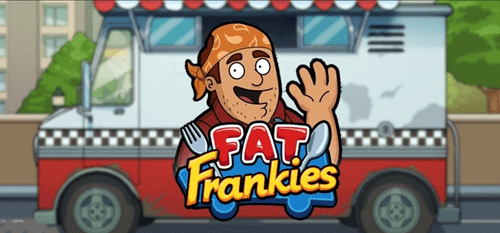 At 96.2 percent, Fat Frankies' payout percentage is above average. Unfortunately, as we have repeatedly observed, this does not guarantee success. If this slot machine is worthwhile to play, you may learn about it in this review.
How does Fat Frankies slot machine work?
Making sure that three identical symbols land next to each other on the playing field is the key to winning at Fat Frankies. The combination only works from left to right, and the first symbol must land on the far-left reel.
You can start playing the slot machine as soon as it starts. The wager is initially set at €1.50 by default. There is a simple adjustment below the playing surface you can make to adjust the wager amount. You may find the game description and all other settings a little farther down, in the left corner. There is an autoplay on Fat Frankies as well.
All of the emblems in Fat Frankies relate to fast food in some way. There are a total of 11 different symbols. Ten of them have a paying feature, and one symbol only has a distinctive feature. Additionally, two of the 10 paying symbols have a special effect. To activate some features, you need the special symbols.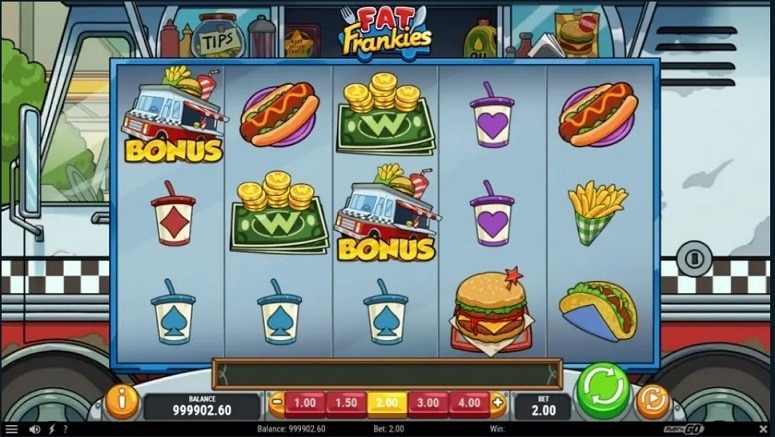 Fat Frankies Bonus features
Burger Bonanza is a feature at Fat Frankies, as we previously told you. This fast-food truck offers a variety of features in addition to this one. You can read about the types of triggers, what they do for you, and how to avoid them here below.
Wild symbol
In this slot machine, the Wild plays two roles. It can replace any other paying symbol on the board and offers the greatest pay-out if three or more of them appear in a combination. On the playing surface, the Wild can land wherever.
Frankie's Special
The Bonus sign is the only one having a special effect. It only lands on reels 1, 3 and 5. Frankie's Special is activated if a Bonus symbol lands on these reels within the same gaming round. With this, one of these four Specials is activated:
Burger Bonanza
Only hamburgers will fall onto your playing field during this function. The residents who land on your field of play stay there for the duration of the feature. You get a respin if a citizen lands. This continues until no more civilians land or until all of the civilians have filled the field.
The price gets higher with the number of residents in your playing field. The prize you win is the same value of the hamburger symbol.
Flip the tip of Fat Frankies
You receive 3 coins with this function. These coins are for the tip jar; try to place them there. If you succeed, you receive an additional coin and the potential reward value increases. When you run out of money or when the value of the award reaches its limit, the feature ends.
Greasy Wilds
The other unique sign on the double reel is this one. One to five Greasy Wilds will be added to your playing field if you trigger this. These greasy wilds cover the entire reel because they are so slick.
5 Star Spins
You'll receive 10 Free Spins as a result. The multiplier goes up by 1 and you get 2 extra free spins if a star lands during this feature. Up to 20 free spins can be won, and the multiplier is up to x6. Only reels 1, 3, and 5 receive these stars.
What do we think about Fat Frankies slot machine?
Our hunger has been mostly sated by Fat Frankies. Let's start by examining the slot machine's graphical features. This spot practically breathes fast food, and we even have a little bit of a Bob's Burgers feel to it. Nothing about this can be criticized.
We are unable to add anything else about the betting range options. Any kind of player is welcome at Fat Frankies. Although the maximum pay-out of 6,000 times the amount is not particularly big, you would still win €600,000 if you did so with the highest bet. Very nice to have, no?
The main feature of Fat Frankies is when you trigger one of the game's four smaller features. We enjoy that this is constantly changing, and Play'n GO has made sure to maintain the player's attention.
Pros
a variety of bets
enjoyable gameplay
Free spins are available
Cons
The wins are not very frequent.
Get the best bonus offers from the top online casinos here.