Cute colourful fish swimming in the turquoise blue water between corals and sea algae is not a very new topic for a slot. They have been around in abundance and there are likely to be many more in the future. Nevertheless, we give 2 thumbs up for the version of the Golden Fish Tank by Yggdrasil from 2016. Read all information about Golden Fish Tank in our Review.
Great graphics and gaming behavior set this slot apart from many others of its kind. The main character is incredibly cute and the appearance reminds us a lot of Finding Nemo, or Arielle, the mermaid. The online casinos see it that way so that this slot has already been included in the repertoire of most casinos.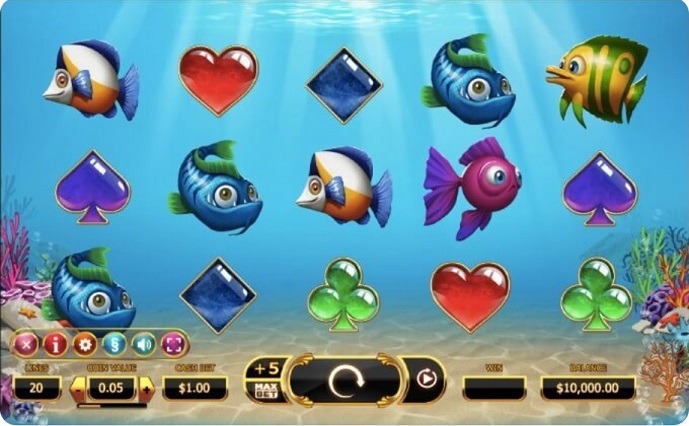 As the name of the slot suggests, we are in an aquarium, not in the open sea. But that doesn't limit the fun! In fact, the slot is waiting for you with loads of bonus features and great animations. You will certainly not get bored here. Let's take a closer look at Golden Fish Tank together.
Main game of Golden Fish Tank
The slot has the classic structure of 3 rows and 5 reels with 20 paylines. The symbols are happy and colorful fish, as well as the card symbols J, Q, K, and A.
The wild symbol is written out in gold letters and can substitute for all other symbols except the Free Spin symbol.
What sets this slot apart from others is the fact that you can choose from the outset whether you want to play Golden Fish Tank in normal mode or in Golden Bet mode.
What is the difference?
The Golden Bet Mode costs you 5 cents more per spin. Still, this mode gets particularly interesting when you get to the free spins.
Free spins in Golden Fish Tank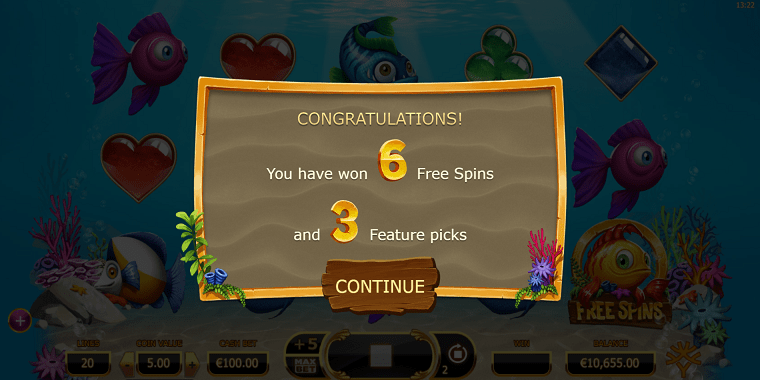 The golden fish in a round frame is the free spins symbol. 3 or more free spin symbols unlock the free spins.
3 free spins symbols give you 3 free spins
4 free spins symbols give you 6 free spins
5 free spins symbols give you 10 free spins
As already mentioned, it is advantageous to play with the golden bet mode. This increases the RTP (return to player) of Golden FIsh Tank and gives you an extra bonus, the feature picks. There you will be led to the bottom of the aquarium, where there are many mussels and a small treasure chest, just like in a real aquarium. You can also find old amphorae of various colors and shapes there.
This can all be behind the selected items:
A free spin coin that gives you 2-4 free spins
A fish turns into a stacked wild symbol for each spin in the free game
1-2 random wilds are placed on the reels
A x2 multiplier is added to your free spin winnings
A wild symbol is frozen on the screen for the duration of the entire feature
Graphics and sound
While the subject isn't very imaginative as such, the graphics are nonetheless compelling. You can treat a topic correctly or less well. At Golden Fish Tank, we feel confronted with Disney quality, and that brings back fond childhood memories. The fish are designed in beautiful colors and shapes and are full of character. The music is light, happy, and lets you bob along easily. So it's no surprise that the gaming experience is incredibly soft and smooth, even on mobile phones and tablets.
Minimum and maximum bet
Since there are two different modes in Golden Fish Tank, there are also two different minimum and maximum bets. In normal mode, the minimum bet is € 0.20 and the maximum bet is € 40, which is relatively low. The RTP is 95.6%, which is below average.
In the Golden Bet mode, the minimum bet is € 0.25 and the maximum bet is € 50. The RTP increases to 96.5%, which is a good average and almost 1% higher than in normal mode. It is therefore advisable to play in the Golden Bet mode in a self-explanatory manner.
Golden Fish Tank has a non-progressive jackpot of € 50,000.
Summary about Golden Fish Tank
If you like fun, fun, and colorful 3D slots, then you should definitely check out Golden Fish Tank! Remember to choose the Golden Bet Bonus to take advantage of the higher RTP and a few extra bonus features.
We are always happy to check out the latest Yggdrasil slots and have never been disappointed so far.
If you want to play the Golden Fish Tank slot here, please check our all casinos here.
One of the most famous casinos offering Yggdrasil slots is, for example, PLAYFORTUNA CASINO, play here.