With a bit of luck you can quickly be an idol of this slot machine – Idol of Fortune from Play'n Go.
Six different varieties of the free spins feature
Has an distinctive Asian theme
Has a $10,000 maximum payout
Asian slot games are currently being offered in limitless numbers. Because of this, it's quite strange how little is about Indian culture. Particularly since, after China, it has the greatest population in the globe. Furthermore, India is a global leader in online gaming.
As a result, Indian-themed slots may become more prevalent in the near future.
Nevertheless, Play N Go has released Idol of Fortune in response to the expanding Indian market.
The Storyline and Theme
Ganesh is without a doubt one of the most well-known Indian Gods. You might not understand what the name means, but you've probably seen the God with the elephant head.
Despite being revered for a wide range of purposes, Ganesh is the Hindu god of insight, abundance, and luck. The name of this slot machine makes sense because Ganesh is also known as the "Idol of Fortune."
Idol of Fortune's design naturally includes a reflection of Ganesh himself. The elephant head god usually reclines behind the playing area. Just above the playing surface is where his elephant head lays.
Candlelight illuminates the lovely arched room where the playing field is located. Numerous Hindu legendary creatures can be seen on the reels. Overall, we can say that the design is successful and fashionable.
Idol of Fortune Bet, RTP and Variance
Idol of Fortune has a 5 reel layout with 3 symbols on each reel.
The minimum and maximum bets at online casinos are 10 cents and 100 euros, respectively. Payout volatility is rather high. We would give the variance a 7 out of 10.
You can win up to 10,000 times your initial wager, and the payout percentage is 96.20 percent.
Features
Play'n Go chose an unconventional theme for this slot, but they only included well-known elements. We're referring to a free spins feature with mystery symbols and the Wild Prize feature. Wild Prize feature.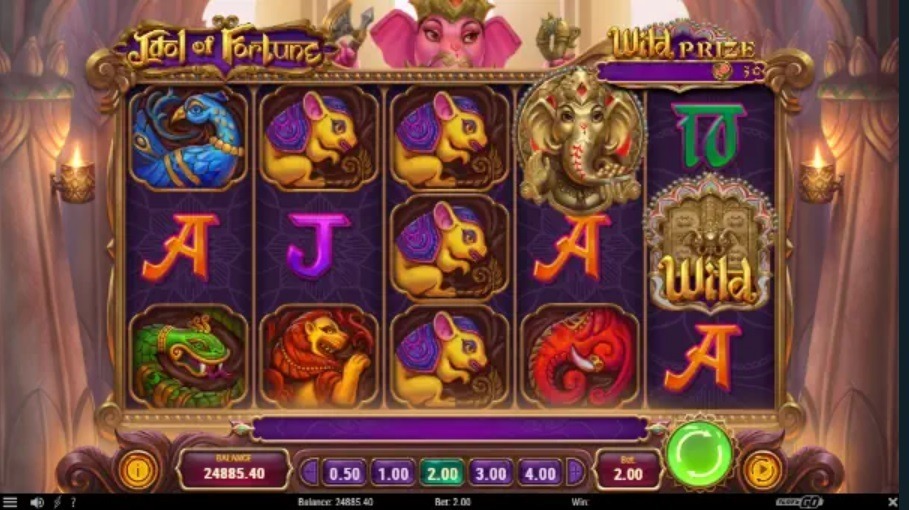 At any point, the Wild Prize function can be activated. You as a player have no control over this. 1 to 5 reels become gold reels when the Wild Prize feature is triggered.
A wild symbol must be spun on a gold reel for you to win on it. This means that you can choose coins up until you have three similar coins.
You will then be rewarded a Wild Prize worth 10, 25, 500, or 5,000 times your original wager, depending on the coin.
Idol of Fortune Free Spins
By spinning at least three scatter symbols in the base game, you can trigger the Idol of Fortune free spins feature.
Additionally, three scatters result in 5 times your stake quick reward.
Additionally, four scatters result in an instant payoff of 10 times your bet.
Additionally, five scatters result in an instant win of 50 times your bet.
The free spins feature version you chose to play will determine how many free spins you get. Choose from the following:
8 free spins with 48 Mystery symbols.
10 free spins with 38 Mystery symbols.
12 free spins with 28 Mystery symbols.
15 free spins with 18 Mystery symbols.
20 free spins with 8 Mystery symbols.
Lucky Dip option: You let luck determine the number of free spins and the Mystery symbols the free spins feature is played with.
During this feature, mystery symbols may appear on any reel. They stay fixed in place once they touch down. They expand 1 place up or down with each rotation. A Mystery symbol will eventually take up the entire reel.
The symbol disappears from the playing field in the subsequent spin. During a free spin, all Mystery symbols constantly display an identical symbol, increasing your chances of forming a winning combination.
Can I use real money to play this slot machine in an online casino? Look at the Play N GO casinos to see if they offer this slot game.
Our Final verdict
We can say that Idol of Fortune is well designed. The concept and the design are the key topics of our discussion. A lovely design successfully captures the original idea. Little can be added to that.
The features are also not bad, but they are not too convincing. In the base game, you only have the Wild Prize feature anyway, which we don't really get very excited about. The free spins feature is fine in itself. It is nice that you can partly shape the gameplay by yourself.
Game with up to 5000 prizes and a random pick of wild rewards
Six different free spins variations with unfolding semi-sticky mystery symbols
The Topic is Great
Extremely volatile slot
Play the best slots from Play'n Go in the reliable online casinos here.