Metalheads and fans of music festivals, take note: Play'n GO offers a slot machine that perfectly suits your taste. This slot machine is an official Lordi Reel game. Play'n GO has once again created a slot in partnership with a band, such as Def Leppard: Hysteria and KISS Reels of Rock, to name a couple of examples.
Lordi became known for their hit Hard Rock Hallelujah with which the band represented Finland in the Eurovision Song Contest in 2006. The metal band even ended in the final and scored a major hit throughout Europe, against all odds.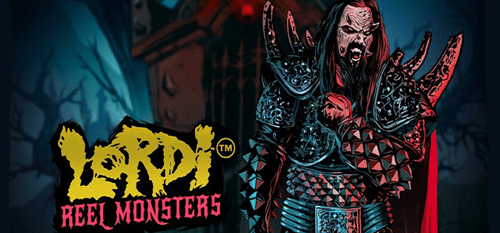 The 7×7 grid, is where you play Lordi Reel Monsters and win by forming clusters of the same symbol. The slot has a number of profitable features, including the Free Spin and Monster Charger Feature, which let you earn up to 4,000 times your bet. The minimum wager is €0.10, with a maximum bet of €100 every round.
With 96.20 percent, the payout percentage is surely not disappointing and so it ranks above average. Will Lordi Reel Monsters score 'douse points' once more, or will the slot machine remain scoreless and fall down in shame? This review will tell you everything you need to know about it.
How does Lordi Reel Monsters slot work?
There are no paylines in Lordi Reel Monsters, so you must make sure that clusters of the same symbol land in your area. This type of cluster is made up of at least 5 identical symbols that land vertically or horizontally close to each other. It makes no difference where the symbols in your field create a cluster.
Once Lordi Reel Monsters has loaded, you can immediately begin to play. The bet starts at €1.50 by default. Everything in the slot reminds us of their incredible performance from 2006. You're greeted with their number one single, and everything else in the slot reminds us of it. Of course, you can change your wager at any time by utilizing the options below the form. If the music becomes too much for you, you can turn it off from here.
Lordi Reel Monsters contains 11 distinct symbols in total. Ten of these symbols can be used to make a profit. Mr. Lordi is the most valuable symbol in the game. In addition, there is one special symbol in the game. This symbol is required to activate some functionalities.
The Bonus Features of Lordi Reel Monsters
You'd expect equally weird and wacky qualities from a band like Lordi. The good news is that there are lots of crazy features in this slot. In the sections below, You can find out what features are available, what they do exactly, and how to activate them.
Wild symbol
The Wild is Lordi Reel Monsters' special symbol. This takes the place of any paying symbol on the playing grid. If one ends on your field, the chances of a cluster increase dramatically. The Wild has the ability to land anywhere on the field.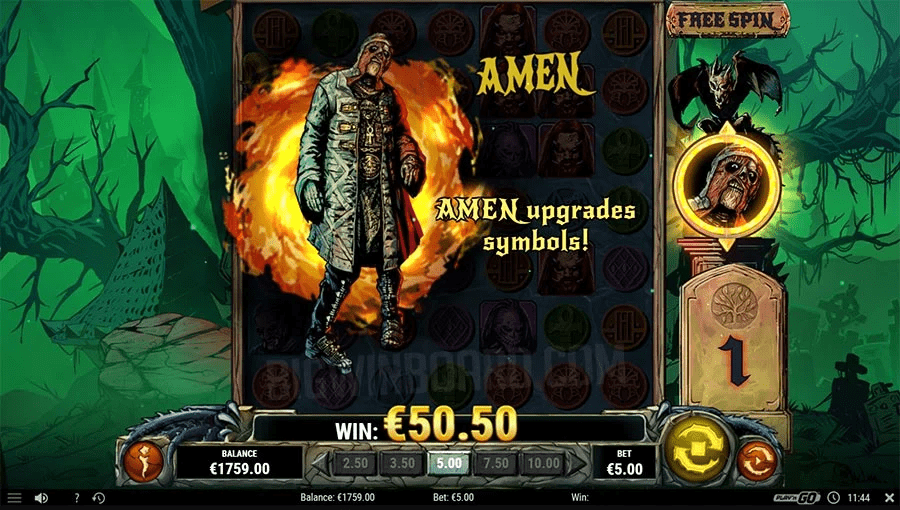 Cascade
The Cascade function is activated when a winning cluster lands in your field. This guarantees that the cluster's symbols are removed from your field and that new symbols are introduced. This will continue until there are no more clusters to land.
Monsters of Lordi Reel
Each Monster Charger is awarded for each successful cluster. There are two tiers to the Monster Charger. To summon one of the Monsters, activate 15 Monster Chargers. If you trigger 40, you get a Free Spin.
After the first 15 Monster Chargers, release, one of the following Monsters:
Lordi: increases the number of wilds on the field by 5 to 8.
Hella: It destroys all symbols on the field except the Wilds and one or two symbols.
Amen: 2 to 5 symbols are upgraded to higher value symbols.
Hiisi: pick a symbol with which to create a cluster.
Mana transforms a single symbol type into a Wild
Free Spin
You will receive a Free Spin if you manage to activate the Cascade 40 times in a row. Despite the fact that there is only one, there are two possibilities below:
Reel Monsters: Each winning cluster gives you a multiplier. The value of this multiplier increases by 1 with each Cascade. A minimum of one or two samples are also assured.
Better Hate Than Never: All winnings are gathered in this variant, and you receive three Monsters. Wilds are added to the field in groups of 5 to 10 after the Monsters have finished their work. This continues until your field's Wilds are depleted.
What is our opinion about Lordi Reel Monsters slot machine?
We've always been fans of Lordi, and for sure Lordi Reel Monsters does not disappoint. It all starts with the ideal music, which is completely unique to this slot. With this slot machine, the background, the symbols, and the overall ambiance are all more than ideal.
With a wide betting range like this, Play'n GO ensures that Lordi Reel Monsters is accessible and therefore very accessible for every type of player. The maximum win of 6,000 times the stake can give you a nice amount.
Play'n GO assures that Lordi Reel Monsters is very accessible for all types of players by providing such a large betting range. You can win up to 6,000 times your stake, which is a significant sum.
Cascading Sequence of Winning Monster Meter Symbols
5 different party member monster modifiers
2 additional rounds, each with its own set of modifications
Custom RTP ranges should be avoided.
You can enjoy the slots of Play'n Go in our Top Online Casinos with great bonus offers here.