Microgaming's Lucky Leprechaun Clusters is the follow-up to the popular Microgaming slot Lucky Leprechaun. The slot machine has been revamped and now shows off a new look. In this version, Microgaming has included a Cluster Pay mechanism. Players on Lucky Leprechaun Clusters will find a 7×7 playing field.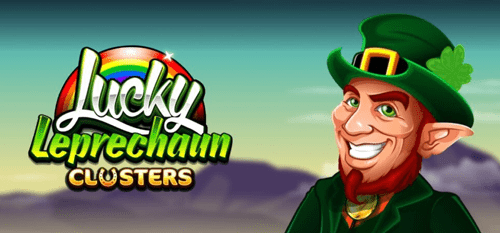 You can win big, up to 4,600 times your stake with features like the Trail O' Fortune bonus. Each gaming round has a minimum wager of €0.10 and a maximum bet of €50.
Lucky Leprechaun Clusters has a payout percentage of 96.31 percent, which is above average, but as we've seen before, this is not a guarantee of success. That's why we looked at everything Lucky Leprechaun Clusters has to offer to see if it's as amazing as its predecessor.
What's the deal with the Lucky Leprechaun Clusters slot machine?
"Cluster Pays" is how you win in this slot machine. This means that if you get groupings of the same sign on your playing field, you will win. In this instance, such a cluster consists of at least 5 similar symbols
You can start playing Lucky Leprechaun Clusters straight away once it has been launched. The bet is set to €1 by default. Of course, you have the option to modify this at any moment. These slot machine options are located to the right of the playing field. You'll also find the game's explanation here.
In this slot machine, there are a total of ten different symbols. The majority of these can be used to make money, with the Leprechaun being the most valuable. The lowest values are the J and Q. There are also two symbols that have a specific effect. This is required to activate the features.
Bonus Features of Lucky Leprechaun Clusters
A slot machine can stand out from the crowd by having unique characteristics. As previously mentioned, Lucky Leprechaun Clusters offers the Trail O' Fortune feature. Microgaming has added a few more to offer the game a little more diversity. You can find out which ones there are, how to activate them, and what they do by reading below.
Rolling Reels
The Rolling Reels feature is triggered by every winning cluster. The cluster is removed from your playing field, and new symbols are introduced. This process is repeated until no more clusters are formed.
Wild symbol
The Wild is one of the two special symbols. When this Wild appears in Lucky Leprechaun Clusters, it replaces all paying symbols on the playing field, increasing your chances of landing a winning cluster right away. The Wild only appears, during the Pots O' Gold, Rainbow Road, Lucky Coin, or Clover features.
Feature Meter of Lucky Leprechaun 
It's all about getting as many winning symbols as possible. The progress is noted in one meter which is situated at the left of the playing grid. The more symbols you land, the more features you'll be able to activate. In total, there are four separate modifiers to earn:
Pots 'O Gold: this is triggered when you collect 21 symbols in the same gaming round (including the Rolling Reels). Here, 2 to 6 Wilds are added to your playing field at random. The symbols that surround the Wild then vanish away, to be replaced by new ones.
Rainbow Road: Wilds are added to the reels if you gather at least 42 symbols in a single round. The symbols disappear, and new symbols appear in your field.
Lucky Coin: Lucky Wild coins will be added to your field if you gather 63 symbols in the same round. As a result, new clusters of symbols are formed.
Shamrock Shake: When you gather 84 symbols in a game round, you get the Shamrock Shake. Here, a symbol is chosen at random. These symbols then vanish from the game, and new ones are inserted.
Trail O' Fortune
The Trail O' Fortune is triggered when you gather 125 winning symbols. The playing field is replaced with a road with multipliers on it in this feature. At the lower right, a wheel appears. This wheel will stop at a number that represents the number of steps you can take forward. You will win 1,500 times your bet if you can walk all the way to the end of this road.
When it comes to sequels, the main concern is always: can it live up to the original? We're mostly optimistic about Lucky Leprechaun Clusters. Let's start with the slot's visual aspect. The animations, sound, and symbols are well-fitting with the slot's Irish theme. Many game developers/ providers use this theme. Play'n GO's Leprechaun Goes Wild is an explicit example.
It's an average betting range. The odds are in the middle of the pack. At Lucky Leprechaun Clusters, players who enjoy video slots but aren't concerned with huge pay-outs can have a good time. This is also true for the top prize of 4,600 times the stake.