The Norse legend strikes in Pragmatic Play's newest slot machine, North Guardians. This is not the first time Pragmatic Play has created a slot with this theme; Book of Vikings was created by the software developer last year. A 5 x 5 field with 50 paylines is used for the game North Guardians.
The Wild Patterns, a feature that you might be familiar with from Eye of Cleopatra, can be found in North Guardians. You can win up to 5,000 times your wager in this slot in addition to these and other features. The minimum bet is €0.50, and the maximum bet each round is €100.
What does the high payout percentage of 96.38 percent signify for the rest of the slot machine mean?
How does North Guardians slot machine work?
In order to win at North Guardians, at least three matching symbols must land side by side on a payline. Only combinations made from left to right and with the first symbol landing on the far left reel count.
As soon as North Guardians has fully loaded, you can start playing. The stake is initially set at $2. Using the settings that are located underneath the playing field, you can quickly change this at any time.
North Guardians uses 13 unique symbols in all. There are 11 of these that have a paying feature, with the Viking man having the most worth. There is additionally a double-effect symbol and one symbol which has only a special effect.
The Bonus Features of North Guardians
We just told you in the introduction that North Guardians has a special Wild Patterns feature, but fortunately there are more features available to increase your winnings. You can read more about them, what they do for you, and how to cause them below.
wild symbol
In North Guardians, the double-reel symbol is the Wild. You will receive a prize if at least three of them appear on the playing field, but the Wild also has its own special Wild effect in which it takes the place of all paying symbols on your playing field, significantly increasing your chances of winning. The Wild can land anywhere on the playing field.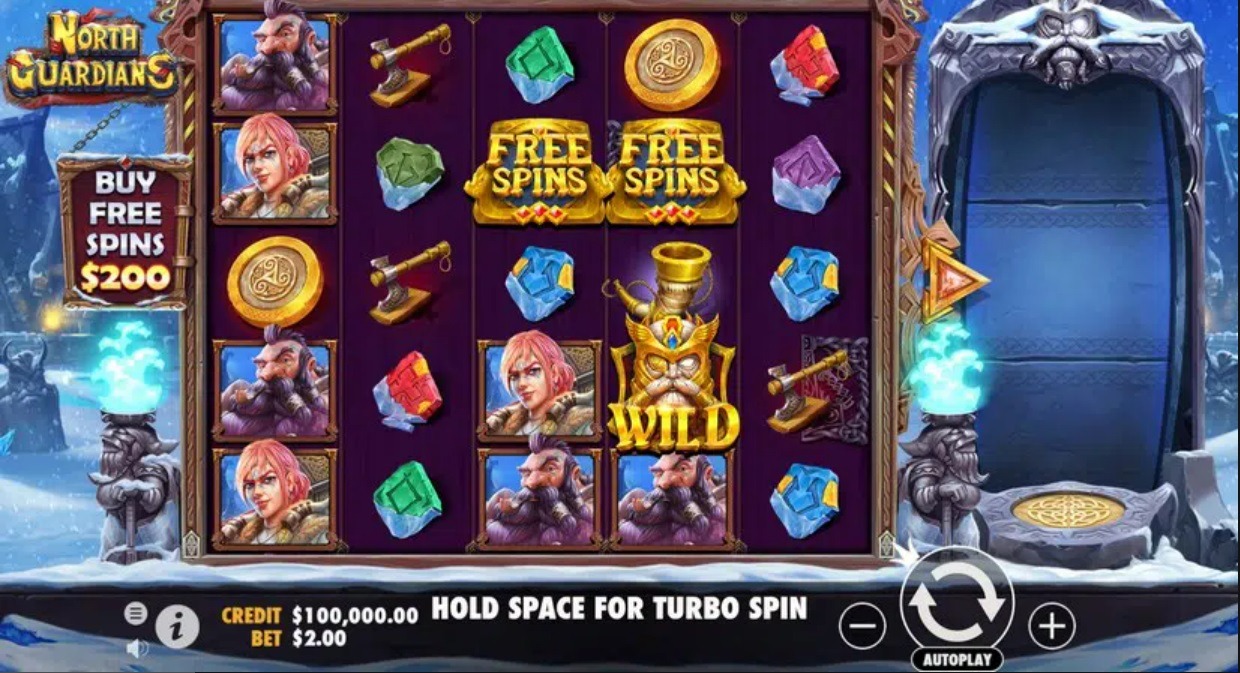 Wild Patterns
Two parts of a marking rectangle are visible under the standard symbols during the basic game on the playing field. Every spin, this rectangle takes a new form. The wheel next to the playing field will turn if both halves touch down in the same spot.
This wheel may land on "Level Up," which would cause the wheel to spin once again, or it could land on a pattern. Then Wilds are scattered around the playing field in the form of this pattern. The pattern becomes better and contains more Wilds the higher the level. There are five levels, and Wilds can cover the entire playing field.
Free Spins
A Scatter symbol can be found in North Guardians slot machine. For the Free Spins to start, you must have at least 3 of these. In any case, you'll get 5 free spins and, based on the quantity of scatters, a prize is awarded that ranges from 2 to 100 times your initial wager.
The Wild Patterns are also active during the free spins. Starting at level1 the wheel does not reset while the function is active. Additionally, you receive more Free Spins as you level up.
You receive 3 extra Free Spins when you upgrade to level 2, 2 extra Free Spins when you upgrade to levels 3 and 4, and 1 extra Free Spin when you reach level 5.
Buy Free Spins
You have the option to manually activate the Free Spins if you wish to start them straight now. This will set you back 100 times your wager once, but it also ensures that you'll get at least three scatters in the round once the feature is triggered.
What do we think of this slot machine?
North Guardians is a gorgeously designed slot machine. The background, the soundtrack, and the symbols all perfectly embody the Norwegian theme.
In North Guardians, the betting range enables a wide variety of players to try their luck. In addition to being appealing to gamers hoping to win big, whether you're new to online slots or not, North Guardians also has a maximum prize of 5,000 times the bet.
We haven't seen Pragmatic Play use the Wild Patterns very much, but they are a highly distinctive element. Hopefully, North Guardians' popularity will encourage them to do so.
⦁ pros
5-tier Wild Pattern Wheel prize with up to 750x magnification
Bonus round that features a wild pattern on every spin
Bonus purchase of 100x
⦁ Cons
The likelihood of winning is one in a billion at most.
You can grab the best casino bonuses in the reliable online casinos here.