Remember Gulag? You don't want to be imprisoned or stuck in the Gulag!
There are up to 641,656 possible ways to win
You can win up to 30,000 times your bet
Your RTP can reach 96.94 percent if you use the Bonus Buy feature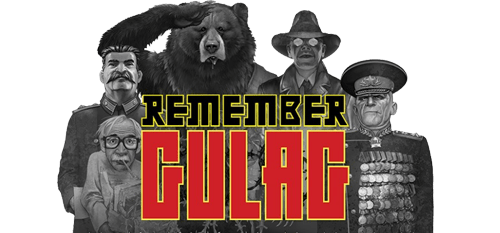 A lot of slot game lovers who also like shooting games will recognize the Gulag from the game Warzone. Warzone is one game variant in Call of Duty's iconic shooter franchise in which you aim to be the last person standing in a battle of 100 players. In Warzone, the Gulag is a type of prison where you land to after being slain in battle for the first time. After that, you have a one-time chance to win a second life by winning a 1 on 1 game against another player.
During the Soviet Union, the Gulag was a government agency in charge of the Soviet Union's labor and prison camps, although Gulag was also the name for such camps. Millions of individuals (both Soviet Union residents and war prisoners ) died in the Gulags over several decades.
Remember Gulag, a slot game from Nolimit City, tackles on this horrible subject.
Storyline and theme
Fortunately for Nolimit City, this isn't the first time the game provider has created a loaded themed slot, so they're used to dealing with situations like these.
Remember Gulag's home screen features the well known quote by philosopher George Santayana "Those who fail to learn from history are doomed to repeat it". There is still criticism but the message is a wonderful slot machine opener.
Remember Gulag meets expectations in terms of visuals. The design of Remember Gulag is pretty bleak. The design is appropriate for the theme. To appreciate artwork like Remember Gulag's, you must be a fan of dark themes. However, visually, there is nothing to complain about in this slot!
Stake, Variance and RTP of Remember Gulag Slot
You're playing on a field that's unusually large. Remember that Gulag slot has six reels with 3-3-4-4-5-5 symbols succeedingly
The maximum payout rate is 96.08 percent, although it can also be lower according to where you are playing from. The RTP can be greater if you use the bonus buy feature. Unfortunately, the Dutch Gaming Authority recently outlawed this bonus buy option at all regulated online casinos.
The payouts vary a lot, and you can win up to 30,000 times your bet.
Remember Gulag has a minimum wager of 20 cents and a maximum bet of 100 euros for each spin. This bet can be increased by 20% by using the Propaganda Bet option. This will almost certainly trigger a scatter on reel 2, which will instantly unlock reel 5.
Features
When playing Remember Gulag, you'll note that reels 5 and 6 are locked by default at the start of a spin in the base game. These can be unlocked by spinning scatters. Reel 5 is unlocked by one scatter, and reels 5 and 6 are unlocked by two scatters. The number of ways to win in Remember Gulag, for example, can reach 614,656.
There are a variety of fascinating symbols in terms of features, including xSplit wilds, xNudge wilds, and xWays symbols. A Bonus Buy feature and a free spins feature are also available.
Remember Gulag Special Symbols
As previously stated, there are three special symbols in Remember Gulag:
xWays symbols: xWays symbols appear on reels 1 and 2 in the base game, as well as reels 5 and 6 during the free spins features. If an xWays symbol appears, it turns into two or three units of the same pay symbol. If more than one xWays sign appears at the same time, they all become units of the same symbol. With an xSplit wild, you can split xWays symbols. The xWays multiplier is thus doubled as a result.
xNudge wilds: these symbols appear on reels 3 and 4 during both the base game and the free spins round. They transform into an expanding wild symbol that covers the full reel. The Wild multiplier will rise by +1 for each symbol that is pushed away. If multiple xNudge wilds appear on the reels at the same time, their multipliers are multiplied together. A new wild is added to the reel if an xNudge wild is split by an xSplit wild.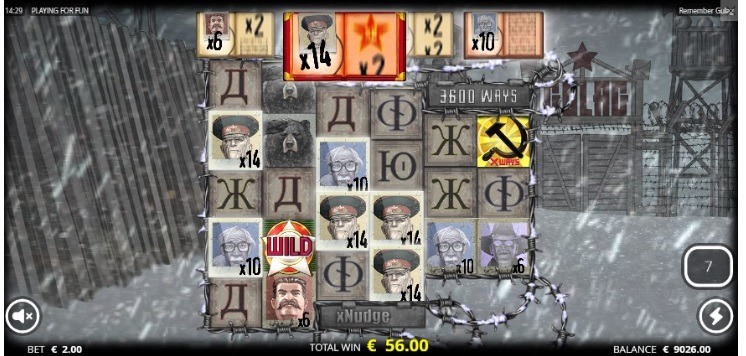 xSplit wilds: They appear on reels 5 and 6 in the base game and on reels 1 and 2 during the free spins round. When an xSplit wild symbol lands on the board, the symbols to the left and right of it split into two symbols. If a split occurs more than once, the split symbol will be attached to a multiplier. Scatters can also be split unless the free spins feature is triggered. In Remember Gulag, though, you'll need at least three scatters to do so. A split scatter transforms into a stacked wild that spans the entire reel. After splitting the adjacent symbols, an xSplit wild symbol transforms into a standard wild symbol. They can then be split once again with the help of a new xSplit wild.
The Bonus Buy feature
When it comes to the Bonus Buy feature in Remember Gulag, you have several options:
Regular spins cost 78 times your stake, however, they have a 96.56 percent RTP.
All Aboard increases the RTP to 96.82 percent, costing 270 times your stake.
Double Vodka increases the RTP to 96.94 percent, costing 486 times your stake.
The Lucky Dip option costs 198 times your stake and allows fate to choose amongst the previous three possibilities.
Free Spins at Remember Gulag Slot
In Remember Gulag, the number of scatters used to activate the free spins feature is crucial. It influences which variation of the free spins bonus you'll receive.
Gulag Spins are awarded when three scatters appear. Only one of the four premium symbols receives a multiplier during Gulag Spins.
Gulag Spins: All Aboard is awarded when four scatters appear. All four premium symbols in Gulag Spins: All Aboard are linked to a multiplier
5 scatters grant you Gulag Spins: Double Vodka. All four premium symbols in Gulag Spins: Double Vodka are linked to a multiplier.
The playing area is flipped over for all of these variants of the free spins feature, so the 6 reels now contain 5-5-4-4-3-3 symbols. During the free spins round, all reels are unlocked by default.
In Remember Gulag, a Set-Up Spin will determine the amount of free spins you get. The number of free spins and the amount of the win multiplier connected with those four premium symbols are determined by this Set-Up Spin. Above the playing field, there is an additional horizontal row of four symbols. At any point, this row can raise a random multiplier of one of the four premium symbols.
Throughout the Gulag Spins and Gulag Spins: All board a  multiplier is enhanced by +1 or +2, or the multiplier is doubled.
A multiplier is enhanced by +2 or +4 or the multiplier is doubled during Gulag Spins: Double Vodka.
During the free spins feature of Remember Gulag, you can also collect scatters as a player. Each scatter symbol awards one more free spin. Each time you get three scatters, the free spins feature is improved to a better version.
Our Final Opinion
Remember Gulag is, without a doubt, a fantastic slot machine in terms of storytelling. Nolimit City is a master at creating dark-themed slots. That was demonstrated in Mental and True Grit Redemption.
The game is full of xMechanic features
There are three different tiers of bonus rounds.
You might win up to 30,000 times your initial bet
In the base game, you have a 1 in 17 chance of winning.
This is a contentious subject.
Be wary of RTP ranges that are regulated.