Rocket Men is a politically oriented video slot from Red Tiger Gaming starring two notorious political leaders.
These two great political leaders dominated the news of 2017, and not because of their maturity. Donald Trump and Kim Jong-un were constantly at odds with each other, whether or not via Twitter. Rather than lead by example and resolve matters through diplomacy and with respect for each other, the infantile threats and more childish insults alternated rapidly.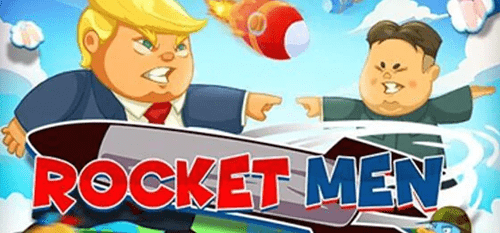 If one said he had a big red button to fire missiles with, the other immediately replied that his button was really bigger. Huge, even. And also the missiles were more and bigger and better. The USA builds the best rockets in the world. They're amazing rockets, just phenomenal.
It doesn't seem to bother them that the gentlemen regularly put world peace at risk with their wrought-up language and threats.
To brighten things up a bit, the creative minds of Red Tiger have made a real video slot with the two toddlers in the lead. They may be referred to as Don and Kim, but everyone knows exactly who it is: that roaring gorilla with the orange hair and that stupid little kid with the absurd haircut.
This is not a politically correct slot and it is full of bad jokes. If you are a little sensitive to that, we recommend a lock like Goldilocks.
But if you love this kind of bad humor, you'll enjoy Rocket Men immensely.
How does the Rocket Men slot work?
Everything revolves around the (mini) bonus features in this slot. There are no less than 5 different ones to win and each one is more fun than the other.
There are at least 20 paylines and the betting range is between 0.20 euros and 300 euros per spin. We omit the payouts per symbol in this review. In any case, they are huge. The biggest pays you have ever seen.
But those bonus features are really fun. And that's why we go straight to the description of these bonuses.
Rocket Men's bonus features
The bonus features can be activated in three ways:
When Don appears on the 1st reel
If Kim appears on the 5th reel
If both Don and Kim appear on the reels
Don's Driving Range
This bonus feature is activated when only Don appears on the 1st reel. You are now going to play a round of golf with Don: he knocks the low symbols off the screen, which then make way for new ones. All winnings that appear on the reels are yours.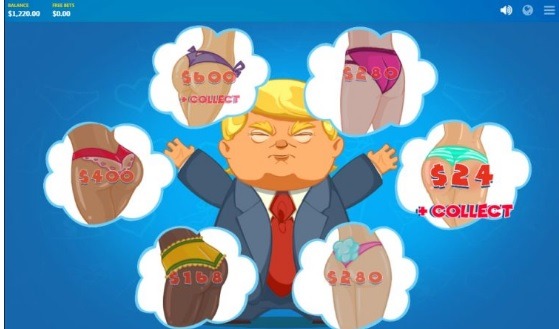 Kim's Little Game of Rocket Men
If the spoiled Kim appears on reel 5, you've won Kim's Little Game. Kim franticly presses his favorite red button, causing the rain to rain on nuclear missiles. Some of these rockets turn into a wild symbol. Others turn out to be of lesser quality and fall into the ocean.
Rocket Men's main bonuses: Don vs Kim
As soon as Don and Kim both appear on screen, the two start fighting each other. They throw meat products at each other to determine which bonus you win.Will Kim win? Then you can decide for yourself where the missiles land in the good old U.S. or A. Choose carefully because you can win big prizes with this game.
Party Time
Suppose Donald wins, then you can play the wrong womanizer with Don. And then in this game, it's not a matter of "Grab 'em by the P***y" – even Red Tiger thought that was going a bit too far. You can give some tips on the buttocks that in turn yield cash prizes. Subtle humor isn't really what Rocket Men is all about. But you already knew that we suspect.
Nuclear Spins Bonus in Rocket Men
Suppose the meat-toss fight ends in a draw, then all hell breaks loose – World War 3 starts. The Nuclear Spins consist of unlimited free spins where both superpowers shoot rockets at each other. These rockets are wild symbols and therefore provide quite a few winning combinations. If an American missile encounters a North Korean missile, it will explode. This is the most favorable scenario.
But if the rocket makes it across, it will cost the president in question a life. When all lives are gone, the bonus is ended. This Nuclear Spins bonus can be quite lucrative, as long as the superpowers are balanced a bit.
What do we think of Rocket Men?
Rocket Men is a hilarious and at the same time very tasteless video slot. You have to be able to handle that. Don and Kim are made a lot of fun and not in the most sophisticated way. Apart from the somewhat wrong theme, Rocket Men is also a hell of a video slot, with exciting bonus features and a high tempo. You can play the slot with the best casino bonuses here.